Linking delivered print - be it a targetted newspaper or promotional print - to online retargetting data is a frontier being explored by mail operators in Europe.
Ulbe Jelluma of UK-based PrintPower says smart software to reach unknown website visitors with a printed mailing could be the missing link in integrated online and offline communication.
Working with a database partner, German utility Deutsche Post has been able to identify the microcell of population where a non-buying surfer lives. Someone who has been checking sport equipment on a couple of occasions at a website without buying might be considered a lost customer. In fact, Deutsche Post estimates that 97 per cent of website visitors doesn't buy at their first visit.
Now the web visitor can be targetted in print, noted for its high engagement. The microcell in which he or she lives - perhaps a number of houses or an apartment building - can be reached by mail, so that people living within in receive a special offer on sports equipment. When the sale goes through online, Deutsche Post will be able to report to the e-commerce website owner.
The print offering can be tailored to control the waste which might result if, for example, not everyone in the microcell was likely to be interested in sports equipment... and broadened to appeal to a wider market.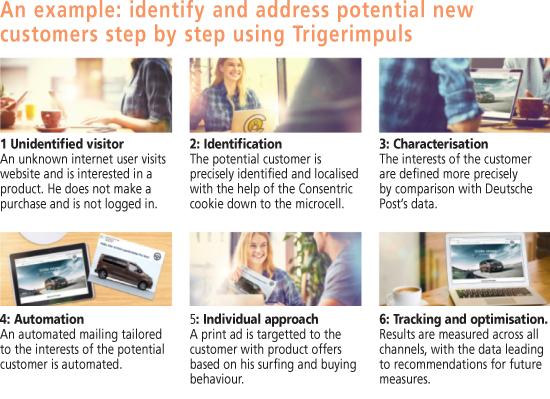 Britain's Royal Mail is also exploring a digital relationship with delivery and box customers. While the initial phases focus on tracking and parcel delivery, there are thoughts of mail as a programmatic channel, with mailings triggered on the basis of online behaviour. "Highly customised, digitally printed mail is being sent today - and for less than you might think," says Jonathan Harman of Royal Mail MarketReach.
The continuous focus on personal communication sees consumers addressed as individuals, with online and offline integrated as part of the brand experience.
While the technology is designed for direct mail, it also lends itself to hyperlocal personalised newspaper editions.