Personalised, localised print newspapers are on the agenda again following a world tour by the man who may yet put them back in fashion, Jean-Pierre Vittu de Kerraoul.
Presentations and meetings in Asia and Australia have taken the message of the success of French regional publisher Sogémedia to media companies on the opposite side of the world in the last couple of weeks, and brought it home to the Ifra World Publishing Expo in Berlin today.
While others might be seen as fleeing print publishing like a house on fire, Vittu de Kerraoul is the man treading his way back to staunch the blaze and salvage it for the future.
Papers in his group are among the oldest in France, dating to 1834, and have not been immune to a global trend which has seen readers and advertisers abandon print.
"We could have just waited for them to die - or do something," he says. "People are very interested in local news, yet the tendency has been to reduce the number of editions, driving readers away."
His response has been the opposite: to increase both the number of geo-targetted editions and offer readers choices about content, introducing a streamlined inkjet digital printing system to produce editions, some of less than 3000 copies.
Not only the digital print technology - Kodak's Prosper 6000 with Megtec infeeds and manroland FoldLine finishing - is fundamental, but also the software used by journalists, and a self-service system with which advertisers can choose zones and change copy.
The project has been supported by a French government scheme for investment in innovation, and Vittu de Kerraoul says being awarded this grant made it easier to get bank finance. Of a total six million Euros investment, the company is reported to have received 2.5 million Euros - for hardware and software as well as team training - from the Strategic Press Development Fund (FSDP).
Recent months have shown the strategy is paying off, with Sogémedia winning readers over the rival daily newspaper in the northern French border towns where the L'Observateur titles in his group circulate. "He had cut the number of editions and is noticing a reduction in circulation," says Vittu de Kerraoul. "Before, he had 24 editions, and it's now down to 12 or 13. In our zone, they have cut from six to two.
"It's good for us, He is running less local news, and we are doing the exact opposite."
Despite decades of technology development, Vittu de Kerraoul is rare among publishers - as opposed to contract printers or newspaper distributors, who are relatively prolific digital print users - in building a business model around short-run inkjet-printed newspaper editions which are both personalised and geo-targetted.
After the ASEAN Newspaper Printers conference in Jakarta at the beginning of this month, his meetings with publishers in Australia address interest both in building reader engagement with print, and overcoming distribution issues related to the country's "tyranny of distance".
At News Corp Australia for example, the appointment of Neil Monaghan as managing director for publishing operations - with national responsibility for procurement, logistics and production - puts in charge of production, the man who had driven digital print initiatives at APN's Australian Regional Media division before its acquisition by News last year. APN had been testing advertiser interest in demographically and geo-targetted editions with pilot projects at two of its Queensland daily titles.
Monaghan succeeds national production director Geoff Booth, who had been working on a national project involving multiple digital print sites. "Ten or 15 digital print sites could make a difference to the way News Corp Australia does business," Booth told GXpress in 2014. A pilot and learning exercise involving installing a first inkjet web and inline finishing equipment into News' Murarrie (Brisbane) print site - where it would print copies of newspapers currently airfreighted to the city - failed to get off the ground, with Booth saying then that there were still "other things to look at".
The Brisbane pilot - for which Kodak and manroland had been named as preferred suppliers - would have provided an opportunity to learn how it could work "in terms of costs and times and printhead life and so on," he said then.
Now, with more pressing issues - such as the replacement of mailroom systems in Brisbane, Sydney and Melbourne, and the assimilation of APN ARM production into that of News - well in hand, thoughts are apparently turning back to the digital print project.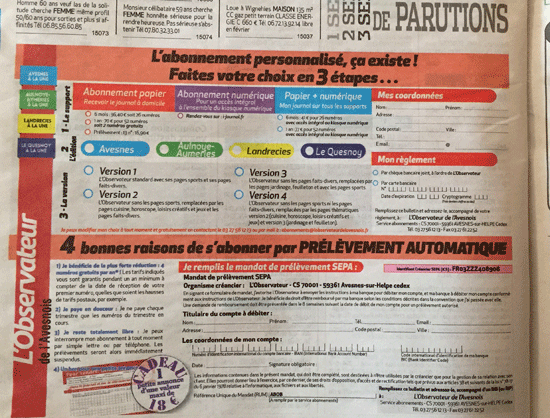 Vittu de Kerraoul, visiting Australia with Kodak, brings unique experience. In Jakarta, he told GXpress of the formula which has evolved over the past 18 months for Sogémedia's three weekly series, of which L'Observateur - with 9000 copies split into four editions - is the most developed.
Results vary, partly depending on whether the team 'get' what they can do with digital print: "If they just continue to publish the same articles as usual, it doesn't work so well, and readers also need time to understand that they have more content that involves themselves," he says.
He is critical of journalists who think they know best, what readers want. "A really good front page, with an article that concerns the life of the people there, works very well," he says. "But it's also a different way of thinking.
"The important news might be politics, but it might equally be about the school your children attend, how roads are being changed, or development plans for the local hospital. With digital, you can adapt and very efficiently correspond the content of the newspaper to the interests of the reader, but it needs journalists who are more open-minded."
Each newspaper is typically split into four geographic editions, with readers opting in or out of content components such as sport, arts and culture, food and recipes, and horoscopes. Individualised copies are then printed in 'packs' perhaps of a few hundred, for delivery by the postal service based on their route structure, or collection from news vendors.
A partnership with news-stands is new. Vendors saw the potential to sell more copies with the targeted editions, and offer as many as four versions to buyers. They are now being encouraged to sell personalised subscriptions, an arrangement which saves Sogémedia postage costs and still delivers the customer data.
There are two elements -microzoning splits a newspaper into four editions - one for each residential area - and personalisation allows a reader to select the content he wants from four options. That might be news, sport and miscellaneous, or the sport replaced by cooking and horospcopes; or the miscellaneous content replaced by arts and culture.
"Firstly, it delivers greater relevance, and after 16-18 months the result has been that we are retaining or increasing our subscriptions," he says. "But there are also benefits for advertising, which can be more relevant.
"A small business doesn't have to advertise outside his personal zone, and because he's not paying for circulation he doesn't want, he can afford to advertise more often."
It also means a car dealer can target a micro edition which goes to young people, for example, or avoid a clash with a neighbour. "Small is beautiful, especially if it's accurate," says de Kerrouil.
Concerns over potentially increased costs are addressed by the intrinsic balance of the process: There are fewer pages but more editorial production; a completely different approach to sales is rewarded with new customers; while ink is expensive, the pages are smaller and there are fewer of them; no printing plates and fewer production staff; lower postage costs because lighter is cheaper. At 8000-10,000 copies, production costs are the same, with the option to combine digital with offset still available.
The print system's ability to handle stocks from 49-250 gsm means a variety of inserts, supplements, booklets and magazines - all of them personalised and dedicetd to a demographic - can be produced for the newspaper and contract customers.
"You print what you distribute, and not the other way around. Everyone now buys from the internet, but most have not deeply changed way of working in the past three or four years. As consumers we change, but as publishers, we don't."
Vittu de Kerraoul quotes Georges Akerlof from a Davos symposium in 2010, "The motivation for everybody is to be somebody." And adds his own: "For newspapers, the problem is not the media, but what is written on it."
Is is worth the considerable effort taken to reinvent printed newspapers? "Absolutely," he says.